MPTE - Family Engagement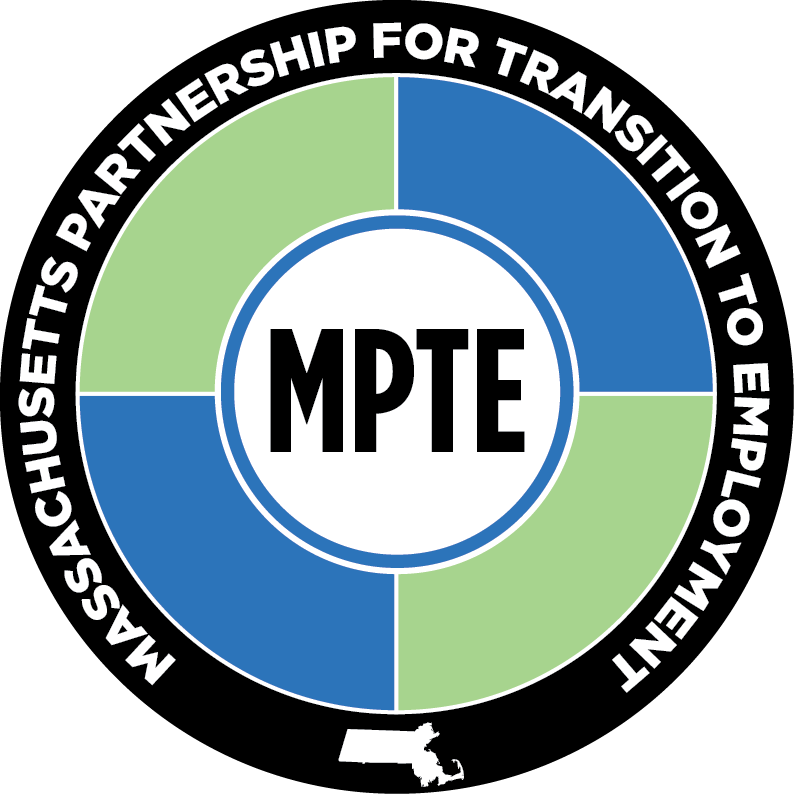 One of the 4 focus areas of MPTE is consistent parental and family support for competitive integrated employment. Early and ongoing expectations and support from an individual's family is critically important for employment and career success.
To accomplish this, MPTE is working to ensure that families have clear and consistent information regarding best practices in employment; that families know how to make the most of the transition process to prepare their family member for career success; and that families are aware of how to use and manage the resources available to support access to competitive integrated employment, both while the individual is in school, and after they leave school.
Related Briefs
---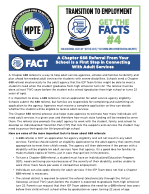 A Chapter 688 Referral From Your School Is a First Step in Connecting With Adult Services.
---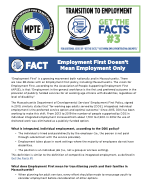 This fact sheet defines what integrated, individual employment means according to policy and explores what Employment First means for youth and families in Massachusetts.
---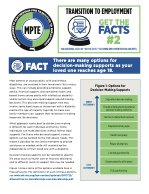 This fact sheet provides key tips for how families can help young adults with intellectual disability and/or autism who may need decision-making supports.
---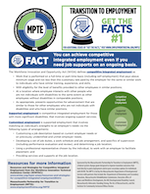 This fact sheet provides key tips for how to achieve competitive integrated employment even if you need job supports on an ongoing basis.
---
Related Webinars
---
For Families and Students
ENGAGING DIVERSE FAMILIES IN YOUTH TRANSITION
Description:
This webinar identifies challenges and barriers culturally and linguistically diverse (CLD) families experience. It provides an overview of strategies for supporting and increasing partnerships between CLD families and professionals.
Presented by:
Ginger Kwan: Executive Director of Open Doors for Multicultural Families.
Reehana Nisha: Transition Program Lead at Open Doors for Multicultural Families.
---
Getting From Here to There: Transportation During the Transition Years
Description:
This webinar addresses transportation services available to people with disabilities in communities around Massachusetts, explore connections between transition-aged youth and transportation opportunities, and provides a greater understanding of how to effectively infuse the topic of transportation when discussing transition goals.
Presented by:
Rachel Fichtenbaum: Executive Office of Health and Human Services Mobility Manager, Mass Mobility.
MaryEllen MacRae: Director of Community Support Services of Easter Seals Massachusetts.
---
Raising the Bar: Seeing Employment as Part of Our Children's Future
This webinar is designed to help parents the bar and envision an employment success for their son and daughter. Success stories and strategies are shared to help youth prepare for employment through chores at home and work experience in the community.
Presented by:
Sean Roy: Training Associate, TransCen Inc.
---
For Professionals and Educators
Partnering with Families: Working Towards Employment Success
This webinar highlights the importance of family involvement in the employment success of youth, while providing strategies for professionals to better engage families in the process. Topics include understanding the family perspective, addressing apprehension in exploring community-based employment, and strategies for helping families play a key role in career readiness and the job search.
Presented by:
Sean Roy: Training Associate, TransCen Inc.
---
School-Related Issues
Helping Your Child to Lead: Student-Driven Secondary Transition Webinar
Presented by: Amanda Green: Secondary Transition Coordinator, The Massachusetts Department of Elementary and Secondary Education. Martha Daigle: Family Engagement Coordinator, The Massachusetts Department of Elementary and Secondary Education.
---
Turning 18
Planning for the Transition to Adulthood: Applying for SSI and Medicaid (MassHealth)
Description:
As students in special education prepare to enter adulthood, there are several areas that need to be addressed. One of the most important is for individuals with I/DD including Autism who are turning 18 years old to apply for Supplemental Security Income (SSI) and Medicaid. Join us for this informative presentation which will discuss why applying for SSI and Medicaid is important, the steps you need to take to prepare to apply, and then how to apply for this important benefit.
Presented by:
Karen Mariscal: Esq., attorney and an expert on special needs estate planning, guardianship, and government benefits. Pat Nemia: M.A., P.T., Project Director at the Federation for Children with Special Needs.
---
Autonomy, Decision Making Supports, and Guardianship
This webinar addresses guardianship, alternatives to guardianship and other "coming of age" related issues for individuals with intellectual and developmental disabilities.
Presented by:
Frederick M. Misilo, Jr.: Attorney and Vice President, The Arc of The United States, Inc.